Data Governance Tips for Holistic Data Protection

Data is a critical asset as it benefits businesses and is to be managed strictly by controlling its access, lifecycle, and structure to make a good profit. However, most enterprises doubt data security because reports have stated that nearly 70% of CISOs expect the data to be compromised during any ransomware attack. The issue also lies in the traditional data-management solutions that were overly complex. This type of infrastructure gap is exploited chiefly and targeted by the threat actors. 
Definition of Data Governance (DG)
Data governance is a procedure of administering the availability, integrity, security, and usability of the data of the organization's systems. It is based on internal standards and data policies and monitoring its usage. Effective data governance guarantees the consistency and effectiveness of data and ensures that it is not being misused. Therefore, organizations must follow new data privacy regulations and seek assistance from data analytics, which will help optimize operations and business decision-making. 
A well-defined data governance program primarily includes: 
A government team

 

Administering cabinet that acts like a governing body

 

A group of the data management committee

 
They all work together to create the standard policies and regulations to be implemented later.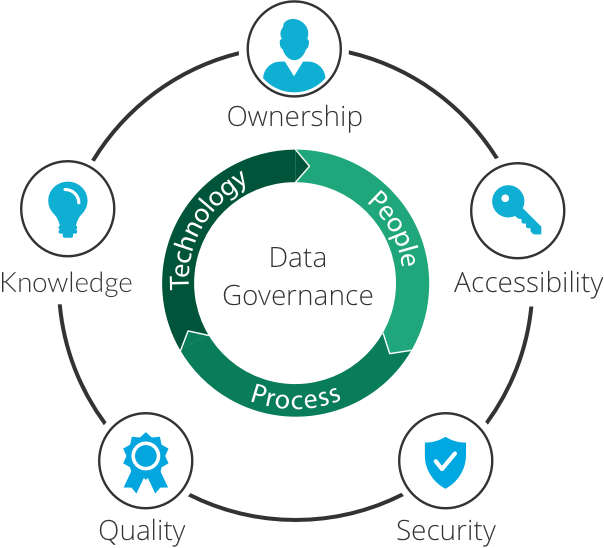 Source: Imperva 
Aim of Data Governance
The primary objective of data governance (DG) is to disintegrate data silos into an organization. They are usually built up when individual business groups deploy different transaction processing systems without centralized coordination. The main aim of data governance is to segregate the data through collective means from other business units involved. It is also important to monitor whether the data is adequately utilized by blocking the potential misuse of sensitive information and avoiding any data errors in the systems. It can only be possible to design policies on data usage and monitor its use. This way, data governance can help maintain a balance between data assortment practices and privacy. Here are some benefits of data governance: 
Accurate analytics

 

Enhanced data quality

 

Cost-effective data management equipment

 

Providing better access to data to analysts and data scientists

 
These benefits of data governance thus help improve business decision-making by providing the organization with enhanced information. In addition, it will give better competitive advantages and provide increased revenue. 
Data Governance Tips for Holistic Data Protection
Proactive data governance provides a holistic approach that helps sustain resources and simplify the protection of data assets. It is an integrated approach toward data governance which is a crucial element of zero trust security and covers the complete life cycle of the data. It also helps in reducing the cost that occurs due to data breaches.  
Mapping the Data, Including All the Assets
Before protecting the data, check where it is stored and how many people can access it. This complete detail of all the assets will provide a wholly examined data and categorization of services that manage the automated data detection and mapping of end-to-end data lineage for all the assets. It will make all the data easily discoverable by putting a label using technical and other familiar terms. It includes operational, technical, business, and semantic metadata.  
Accountability Framework and Decision Building
Once all the data has been located, the roles and responsibilities of each asset are to be documented. To do so, questions like how the data is to be accessed, who is accountable for the data, the process of handling lifecycle management, and more. It will help prepare a detailed lifecycle for data access which will cover guests, partners, employees, and vendors. Thus, determining how much access is to be given. It will also help prevent data misuse and the exploitation of permission and increase user productivity. 
Source: Informatica 
Access Monitoring and Policies Usage
Now, the policies are required to be documented for every data repository. It will help determine the data access and how it will be shared further among the users. In the case of sensitive data, the zero trust principle should be enforced for the least privilege or provide the JIT (just-in-time) access to the users. The JIT Permission Access Model (PAM) enhances the principle of less privileged by minimizing the attack surface, mainly when the privileges are actively used.  
Source: Ekran 
Maintaining a Track of Both Structured and Unstructured Data
Previously, data governance was all about emails and business files, but organizations must protect all their sensitive information with strict regulations. It includes the structured and unstructured data stored in the cloud, on-premises, and more. Therefore, it is suggested that the organizations develop the matrix approach toward data governance. At the same time, the compliance and security professionals will assist the data owners in meeting the requirement to protect the data. Also, documenting the roles and responsibilities of the business unit will help users understand who will be responsible for using specific data and for what job, as well as who will add the data into the system and who will take responsibility. 
Deleting the Unnecessary Data
It is said that a simple way to protect the data is to delete it. However, according to privacy law, the business must keep the customer's PII only for the time it has to serve its purpose. Therefore, having an understanding of the lifecycle of data is necessary. 
Conclusion
Data governance is a business imperative rather than an IT project. The main focus of Data governance managers should be creating a business case that demonstrates leveraging data and how it enables process, technology, and organization to improve for building a more significant business value. Proactive, holistic data governance is essential to data protection, spanning the whole lifecycle and assisting the business-driven outcomes by ensuring that the data is accurate, secure, and discoverable. 
Reference:
Microsoft 
TechTarget 
Informatica 
Author, 
Sanjana Yadav, 
Marketing Department, 
Varutra Consulting Private Limited