Security Orchestration Automation and Response (SOAR)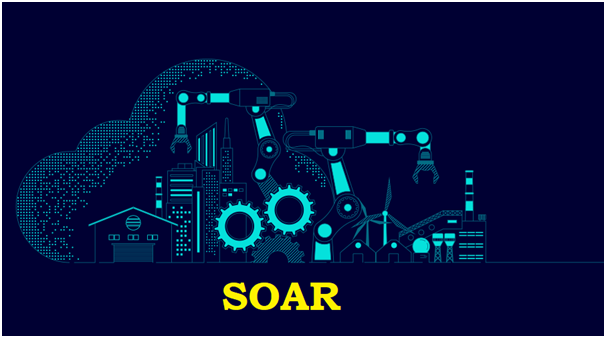 Cybersecurity Synopsis
For almost every organization, either large or small-scale, performing incident response is an endless job and to tackle it adequately, most of the organizations are stressed to seek out cybersecurity professionals who have real-world experience within the cyber threat landscape, while attacks from all over the world and cyber crime threats are growing rapidly.
Since attackers exploit a single security weakness to compromise an organization, defenders should monitor the corporate perimeter to safeguard critical assets against such attacks. Further to oppose the defenders, attackers will choose when and whom to strike.
According to Rapid7 reports, even the organizations who have cybersecurity experts are also trying to keep up the business operations safe and secured by mitigation against cyber threats.
It has been observed that an analyst takes a minimum of 75 minutes to investigate, react, and block the attackers behind a cyber-attack for a phishing email; 2-3 hours for Malware detection on average.
In addition, large scale attacks can take several days to investigate, analyze the attack patterns, assist and remediate the detected attack. Due to lack of time and shortage of skilled workforce, not all cases are thoroughly investigated and as a consequence, the security analyst's response might be ignored when dealing with a parallel incident investigation, leaving the first incident open.
To Overcome this…
SOAR stands for Security, Orchestration, Automation, and Response; a term which refers to systems that can improve security operations by extracting data and conducting routine or tedious tasks without the need for human intervention, as well as performing analysis from a single central resource, i.e., a SOC which is the Security Operations Center.
Introduction To Security Orchestration Automation and Response (SOAR)
SOAR solution enables the organization to collect data from various sources and respond to low-level security incidents without the need for human intervention. It detects and classifies cybersecurity risks and challenges and reacts to low-level security incidents. SOAR's goal is to make security operations effective and productive.
Security- Security is a collection of techniques, technologies, and procedures that help protect the anonymity, integrity, and access to computers, documents, and information against cyber-attacks or unauthorized access. The primary objective of cyber security is to safeguard all of the company's assets from both external and internal threats.While organizational assets comprise of information systems, a good and efficient cyber security standard requires intensive effort to integrate all of its data systems and protect them.
Orchestration-Integrates different technologies and interconnects between security tools to enhance incident response capabilities and helps organizations handle complex, frequent cybersecurity incidents. SOAR allows cybersecurity and IT operations solutions to work together and provide a comprehensive view of an organization's IT infrastructure.
Automation- It provides automated detection and response to decrease the time that takes security teams to locate and handle security incidents and reduce their workload. Security incident response teams can use SOAR to control and automate steps like status checking, decision-making workflow, audits, and enforcement actions.
Automation can facilitate security and mitigating actions such as:
Reactive – a set of pre-built workflows for various use cases, response interventions and checks are performed.
Proactive – hunt threats and automate security tasks to assist SOC analysts identify vulnerabilities and cybersecurity threats to detect and recover from incidents.
Response-SOAR assists compliance researchers in dealing with cybersecurity issues and improving communication with other departments so that incident reports can be shared and updates can be applied more quickly. SOAR offers dashboards that collect data, allowing security teams to gain visibility into recent events and properly prepare for emerging threats.
Capabilities via Security Orchestration Automation and Response (SOAR)
Key capabilities offered via SOAR are listed:
Vulnerability & Threat Management—support Compliance teams in addressing issues beyond their lifecycle, by incorporating SOAR in order to orchestrate processes for mitigating flaws right from warning to remediation.
Security Incident Response —helps organizations plan, manage, track and coordinate how they respond to security incidents.
Benefits of Security Orchestration Automation and Response (SOAR)
Organizations can expect multiple benefits via leveraging SOAR solutions which might transform key security operations to assist SOCs increase efficiency and reduce workloads which include:
Reduced Manual Operations—SOAR can automatically answer low-level threats and cuts down the reaction time to seconds by which the attackers have less system time interval.
Simplified Platform—security manuals are pre-built by SOAR providers to facilitate decision makers through advanced research. Users can depend on SOAR solutions complexity to incorporate them into security systems without having to worry about which aspects can be automated. Several SOAR algorithms immediately priorities risks, which may assist less-experienced analysts in determining which events they need to handle.
Minimized Losses via Attacks—reduces the number of steps taken for human interaction and aids researchers in investigating and responding effectively so that they can try to eliminate it as soon as possible. SOAR provides security analysts with the latest up-to-date intelligence on attacks, allowing them to react more effectively against cyber threats.
Multi-tool Integration—SOC uses multiple tools for protection from different security solution vendors that do not usually work together. SOAR allows security researchers to look at IT tools such as assets, management controls, and support software. Many SOAR solutions provide a built-in multi-tool integration solution in order that they are often easily integrated into the cyber security framework.
Ease of Technology & Tools Integration
SOAR can adapt alerts from a wide range of products and technologies and support multiple security technologies including:
Data Enrichment
Email Security
Endpoint Security
Forensics & Malware Analysis
Identity and Access Management
IT and Infrastructure
Network Security
SIEM & Log Management
Vulnerability & Risk Management
Significance
According to several researched reports, a typical business will gain significant value by integrating SOAR standards into its modelling business via below metrics –
90% on reporting
80% on playbook creation
70% on alert handling
60% on analyst training
30% on shift management
Conclusion
As cybersecurity is an ever-evolving domain and to detect and mitigate rising threats on a daily basis,security solutions are tremendously helpful for almost all sort of organizations these days.
SOAR technology assists analysts in reducing response time to seconds by proven techniques and will detect, prioritize cybersecurity risks and challenges, as well as react to low-level security incidents without manual intervention.
SOAR will add significant value to the existing SIEM solution in enhancing existing capabilities and can lead to performance enhancement with the existing security operations.
References
Author,
Goutham Korepu
Consultant – Managed SOC
Varutra Consulting Pvt. Ltd.